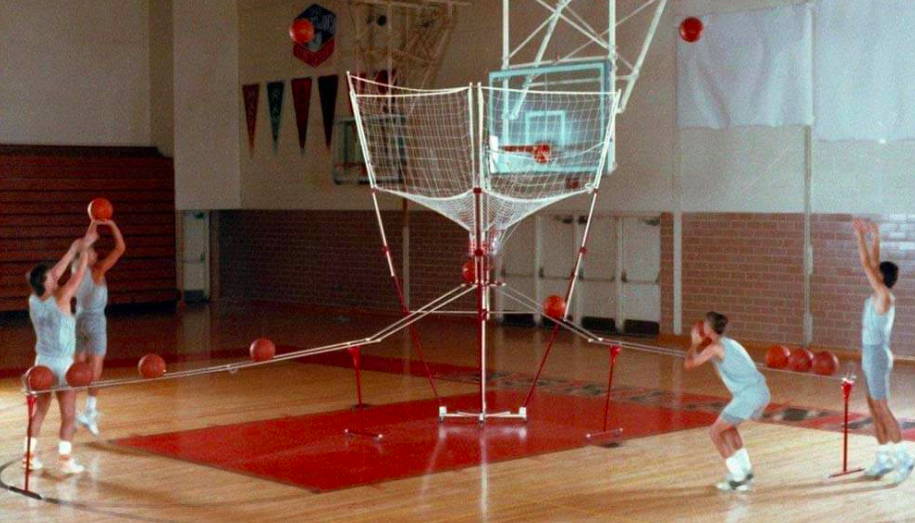 Introduction:
If you are one of those who has been heavily influenced by Kobe 'the Mamba' Bryant's shooting prowess or have been mesmerized by the success of Steph Curry and Kevin Durant on the glass, then you definitely need to put together a robust shooting regime to develop into one of those phenomenal shooters. Practicing basketball shooting drills with the help of an automatic rebounder or other types of shooting machines will obviously help you refine your alignment, form, rhythm, and shooting sense and create impeccable muscle memory. So if you want to display extraordinary skills and become a force-to-be-reckoned on the glass, then your first priority will be to develop into a prolific shooter.
How will a facility basketball machine help you in refining your shooting skills?
The benefits of using a facility basketball machine are manifold. We believe that every sports person should leverage the technological advancements that are present in the concerned sport.
In basketball, automatic shooting machines have been a revelation! Whether it is the Gun variants like the 6k, 8k, 10k, or the latest 12k from Shoot-A-Way or a Dr. Dish basketball shooting machine, you can emerge as a more potent and more flawless shooter if you are practicing with these machines.
Let's look at some of the upsides.
Most of these machines are pre-programmable. Hence, you can set definite tasks and regular basketball shooting drills with these machines' help. These tasks should be challenging yet attainable. In this way, you can ideally build up your shooting form, muscle memory as well as confidence.
You can rigorously practice with the help of a basketball shooting machine. It collects the made and missed shots and redistributes them at various court positions as preferred by you. In this way, you are up for an efficient practice session to do more by spending less time in the facility.
Constant shooting practice with a facility basketball machine helps activate your flow and create impeccable muscle memory. Thus, decision-making and pulling off a perfect shot during a real-time game situation will be a cakewalk for you!
You can always compare your performances against your objectives. Most machines come with automatic shooting percentage logs that display them on your devices. Hence, you can overcome the challenges you have set yourself and emerge a better shooter and overall better player every day.
Dr. Dish versus Shoot-A-Way: which one should you choose?
Though Dr. Dish has been quite renowned in the shooting facilities and other circles, the Gun variants from Shoot-A-Way have emerged as a better alternative to those. Both the products are highly rated by the coaches and mentors in schools, varsities, and facilities.
But according to some of the game specialists, the Shoot-A-Way Gun variants- the Gun 6000, 8000, 10k, and more recently, the Gun 12k, possess a visible edge over the Dr. Dish basketball shooting machine. If you are going to choose the Shoot-A-Way Guns for your training facility or your home, it is better to keep a tab on the pros and cons that the machine has and compare it against its fiercest market rivals!
So let's take a look.
● Pros:
1. Ease of assembly and disassembly:
The Shoot-A-Way Gun variants' body comprises various parts that are carefully assembled to create a flawless unit. The Gun 6000, 8000, 10k, and more recently, the Gun 12k are all built with superb sections that are suitably fashioned and appropriately assembled. You can use the Guns anywhere in your homes, the backyard, and school and varsity shooting facilities.
Dr. Dish machines also provide an easy assembly and set-up.
2. Warranties:
The Shoot-A-Way Guns come with a terrific 5-year manufacturer warranty. Along with it, the net has a 1-year warranty. Although there are such warranties, the Guns are not waterproof and cannot bear extremities of weather like hail, sleet, snow and could get damaged if you keep them out. Hence, you should cover them ideally.
The Dr. Dish machines like the CT, All-star, etc., have just a single-year warranty on the entire product. They are also not waterproof and stormproof, and you need to keep them covered with heavy nylon covering to prevent them from being damaged.
3. Innovative structure:
Most coaches across facilities prefer the Guns because of their innovative structures. The Guns are essentially automatic rebounders with a single, roll-away body that supports easy assemblage, storage, and transport. The Guns have an adjustable height that makes it easy for you to transport them through door frames of various dimensions.
While the Dr. Dish is an app-controlled and power-driven shooting machine with a 180-degree rotary capacity and ability to feed the balls at 19 different locations, the Shoot-A-Way Guns do much more than that. They can feed the ball anywhere you like. You can preset your preferences. The transparent and robust netting enables the Gun to collect all the made and missed shots and distribute them to your preferred positions while keeping a tab with its optional counter for shot percentages.
4. Avant-garde technology:
Though the Guns have been around for quite some time (since 1997), the constant innovation and integration with the latest technologies have made it one of the most indispensable items in modern-day basketball practice. Let's take a look at some of them.
The automatic rebounder technology feeds the ball at any court position according to your preference.
The Guns enable you to choose the multi-select passing location. Thus, you will be able to cover every inch of the court.
The Gun 6k fires 1800 shots per hour. Thus, you are in for a fiery practice session! It also clocks the successful shot percentage using its counter.
The Gun 8k enables you to integrate some of the best basketball shooting drills in your practice session using its pre-programmable settings. You can do target shooting, pull-back shooting, transition fades, and much more!
The Gun 10k is the ultimate facility basketball machine as it has a customizable smartphone player app that sends real-time shooting data and analytical results to integrated smartphones and mobile devices. Therefore, you can constantly monitor your previous performance and try to climb a notch higher.
The Gun 10k is one of the very best in its leagues. It features a shooting accuracy button that enables you to refine your shooting skills. On the other hand, it also features a spot-to-spot shooting mode.
The Gun 12k combines the above and other technological advancements to land a solid statement.
The Dr. Dish machines are also technologically sound, but they are nowhere near the Guns. Every model enables you to practice the basic shooting drills and beyond. They also offer touchpad and touchscreen integration with smartphones and mobile devices.
● Cons:
1. Price:
Dr. Dish shooting machine price is much lower compared to the Shoot-A-Way Guns. The primary reason is that they are manufactured in China, whereas the Guns are manufactured in the US with the very best indigenous technologies.
However, the cost depends on the variety of models and add-ons. You can formally request a price by filling in the particulars on the official Shoot-A-Way site.
Closing thoughts:
The future is here and now! So you need to chin up, pull up your socks and make a fitting investment in the Shoot-A-Way Gun to become an NBA legend in the future!