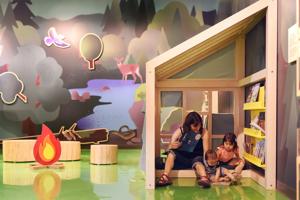 The Montréal Science Centre launches Tiny Tot Tuesdays for families with children ages 2 to 5. The event is designed to offer families an opportunity to introduce their little ones to science and technology in a fun, interactive, and safe environment custom-made just for them. 
Tiny Tot Tuesdays will feature a remade screening experience at the IMAX®TELUS theatre with a shortened 26-minute runtime for the film Sea Lions 3D – Life by a Whisker (instead of its full 45-minute version) with reduced volume for these tiny-tot audiences. Parents can rest easy, and laughing and squealing are always welcome.
Designed and developed as a permanent exhibition for audiences ages 0 to 7, Mini Mondo is a fascinating and interactive space where children can set out and explore their environment. There are objects to handle and sounds and smells to explore across three different zones: the city, the forest, and the river. The exhibition space was also designed to be accessible and inclusive and includes a nursing room and a large family-sized washroom.
Then there's the feature exhibition Dinosaurs Around the World where little ones are invited to explore Pangea and its ancient continents where they can meet 20 life-sized animatronic dinosaurs that move and roar. The area is filled with interactive activities where young visitors can play with paleontologist tools and unearth fossils, slide down the back of a sauropod and climb on the back of others, and even touch a real 67-million-year-old hadrosaur fossil with their own hands.
– Jennifer Cox