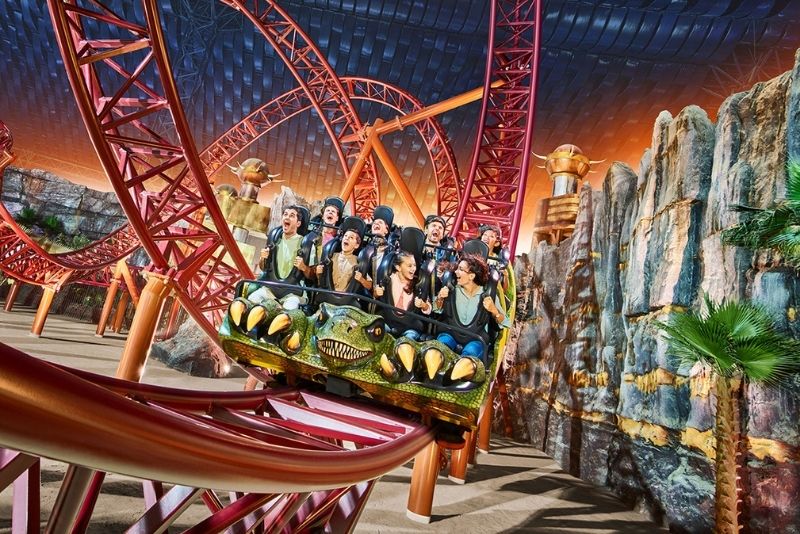 Dubai, the glittering crown of the United Arab Emirates, is renowned for its stunning architectural feats, effervescent nightlife, and an exhaustive array of leisure activities. It's the ultimate destination for an unforgettable excursion with friends.
Let's embark on a virtual tour of the top places to visit in Dubai, based on feedback from TripAdvisor, and a personal favourite, The View at The Palm.
Thrills at Meydan Racecourse
Meydan Racecourse is the epitome of an exciting day out, perfectly blending modern architecture with the age-old tradition of horse racing. Its grandstands and viewing galleries provide an unmatched perspective of the races. Regardless of your familiarity with horse racing, the electrifying ambience, vibrant crowd, and state-of-the-art amenities will impress you.
A Cool Escape at Dubai Ice Rink
Seeking a respite from the scorching desert heat? The Dubai Ice Rink in Downtown Dubai serves as an ideal haven. A world-class ice-skating facility, this place promises an exhilarating day out with friends. Whether you're a seasoned skater showing off your skills or a novice clinging to the sides, the spacious rink ensures everyone has a good time.
Embrace Tradition at Dubai Camel Racing Club
Dubai Camel Racing Club introduces you to an authentic Emirati experience, reflecting the region's traditional sport, camel racing. This unique sporting event offers a remarkable spectacle that is truly an integral part of the local culture.
A trip to this racing club is a must when visiting Dubai. It offers unlimited opportunities for capturing memorable moments amidst thrilling races. The dynamic environment and the traditional practices provide a rich and immersive cultural experience.
Adrenaline Rush at Phobia Dubai
For those seeking an adrenaline-fueled adventure, Phobia Dubai is your spot. Situated in Jumeirah Lakes Towers, this thrilling escape room experience offers many games that demand teamwork, strategic problem-solving, and quick thinking. It's a fantastic way to strengthen bonds while having an exciting experience.
Fun & Strategy at TEPfactor
TEPfactor, nestled in Jumeirah Beach Residence, is a treasure trove of various games, blending challenges and fun. It's the perfect venue for groups, with games demanding cooperative play and strategy. From a casual fun day out to a team-building exercise, TEPfactor is an all-in-one entertainment hub.
Unparalleled Experience at The View at The Palm
The crowning glory is undoubtedly the unparalleled experience at The View at The Palm. Perched on the 52nd level of the Palm Tower, The View reveals a mesmerising 360-degree panorama of Palm Jumeirah, the Arabian Gulf, and the city's skyline, making for an unforgettable experience.
Whether you're soaking in the awe-inspiring views from the outdoor terrace, luxuriating in the premium lounge, or exploring the immersive theatre and exhibit area, The View at The Palm provides an unrivalled perspective of Dubai. As one of the top places to visit with friends in Dubai, it's a spot worth visiting.
Concluding Thoughts
Dubai, a melting pot of diverse experiences, caters to all tastes and preferences. The city has much to offer, be it a hunt for adventure, a quest for relaxation, or a pursuit of cultural richness. So, rally your friends, plot your itinerary, and gear up for an unforgettable Dubai experience.